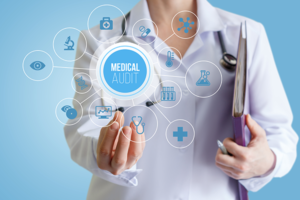 Posted by Dana Fuhrman on June 22, 2018
With the current increase in regulatory and commercial payer audits, healthcare providers are struggling to ensure coding accuracy and compliance with governmental guidelines. In this report, the Centers for Medicare & Medicaid Services (CMS) estimate that 9.5% of all Medicare fee-for-service (FFS) payments were improper. This translates into $36.2 billion overall. As a result, the occurrence of regulatory and commercial payer audits will continue to intensify. It is crucial for healthcare providers to understand what triggers an audit and what measures to take to prevent an audit of their practice.
There are many types of audits. Some examples of the audits a healthcare provider may encounter include the Recovery Audit Contractors (RAC), Medicaid Integrity Contractors (MIC), Zone Program Integrity Contractor (ZPIC), Risk Adjustment Data Validation (RADV) and Medical Record Reviews (MRRs). The main objective for all of these audits is to ensure proper payments for the items or services that are billed.
According to the 2017 Medicare FFS Supplemental Improper Payment Data report, most of the improper payments were attributed to insufficient or no documentation, lack of documentation supporting medical necessity, and incorrect coding. Below are best practices healthcare providers can implement to avoid improper payments and prevent a regulatory and commercial payer audit.
Improve Clinical Documentation
According to the report, many improper payments are due to documentation errors where payers cannot verify that a billed item or service was received and/or was medically necessary. Healthcare providers must be vigilant about maintaining accurate and complete medical records which contain documentation for all services provided and support all claims that were submitted for payment. If it was not documented, it was not done!
Document Medical Necessity
Medical necessity must be documented for all ordered tests and procedures. Extra diligence is needed when ordering sleep studies, MRIs and outpatient physical therapy services because the OIG considers these to be over-utilized services and could trigger an audit.
Ensure Accurate Medical Coding
Healthcare providers are a target for audits if they are submitting claims with incorrect codes. Therefore, it is imperative to implement continuous education to ensure the coding staff is current on coding rules and payer payment policies. In addition, according to this report from Physicians Advocacy Institute, healthcare providers should compare the use of their most used codes and modifiers to others in the same specialty to ensure their utilization is similar.
Evaluate E/M Codes
Evaluation and management (E/M) services are well-known targets for regulatory and commercial payer audits, therefore it behooves providers to carefully assess their utilization of such codes. Providers that under-code or over-code their E/M services relative to their peers are at higher risk for an audit. Providers should compare their E/M coding averages to the national benchmark and ensure there is not a significant variance.
Conduct Internal Audits
Healthcare providers need to have a comprehensive compliance plan in place. Performing regular internal audits of coding and documentation will help ensure that all services provided are being coded and billed appropriately. Furthermore, CMS and OIG recommend that healthcare providers should routinely hire external auditors to perform audits. Such audits can present a fresh perspective and potentially detect errors that were overlooked.
A regulatory or commercial payer audit can be an overwhelming burden to a healthcare provider. It can result in high administrative and financial expenses to coordinate record requests and legal processes. As reported here, auditors can request hundreds of records at a time and go back many of years. According to this 2016 presentation from American Hospital Association, one out of every three hospitals spends more than $200,000 annually on regulatory or commercial payer audit related costs. Those funds could be spent more productively.
Partnering with a professional medical billing and coding company, like Healthcare Administrative Partners (HAP), is a proactive approach to prevent a regulatory or commercial payer audit. HAP offers a team of revenue cycle specialists, certified specialty-trained coders and patient care representatives who can improve clinical documentation, ensure accurate medical coding and maximize revenues.
Using CODIA®, a proprietary workflow management system, the coding team can directly communicate with health care providers about missing or unclear documentation and other potential problems to ensure all services, tests and procedures have complete documentation to support all claims.
In addition, HAP specialists regularly evaluate their client's coding averages and compare them to the national benchmark, acting quickly if there are significant variances. Lastly, HAP performs intensive internal and external medical coding audits to ensure that each patient encounter is coded correctly. Using the professional medical billing and coding services at HAP can help healthcare providers implement best practices to prevent an audit, increase efficiencies, and create a healthier bottom line.
Get our latest free educational articles delivered right to your inbox. Subscribe now.
Dana Fuhrman MSN, RN, RHIA, CCS is the Director, HIS Infrastructure Solutions Sales Management at Healthcare Administrative Partners. 
Related Articles:
2018 Coding Changes That Will Affect Physician Practices
Regulatory Changes Affecting Physician Reimbursement in 2018
An Essential Transition from In-House to Outsourced Coding Services